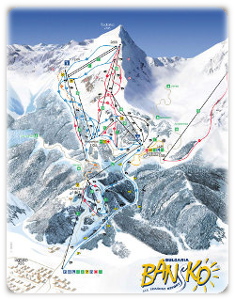 Bansko, once mainly a farming and merchant community, has become an international center for winter and summer tourism. Nowadays Bansko is a true 4-seasons resort. The mountain peaks near the town, the numerous lakes and the old pine woods make it a popular site for recreation all the year round.
Recent improvements have been made to the infrastructure and organization of the ski area on the Tordoka peak to accommodate the rising number of tourists. A gondola lift was built in 2003 removing the need for the minibus ride from Bansko village to the primary base area of Banderishka Poliana.
As of 2010, the ski area has 75 km (47 miles) of ski runs, 27 lifts and drags, serving up to 24500 persons per hour. For an overview of available ski-runs, click the map on the right.
The large variety of ski-slopes is suitable for all skill levels, from new beginners to accomplished experts. The lift-served Tordoka peak rises to an elevation of 2600m above sea level.